The Arkansas STEM Coalition Thanks Arkansas Children's Hospital & eSCO Processing and Recycling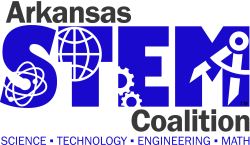 The Arkansas STEM Coalition received 110 television monitors from Arkansas Children's  Hospital to support student learning in STEM Education, Science, Technology, Engineering, and  Mathematics, for schools throughout Arkansas. 
The Arkansas STEM Coalition will distribute monitors in September and October to each of the  12 University STEM Centers in Arkansas and each of the 15 Educational Service Cooperatives.  Additional monitors will be distributed to rural school districts in critical need of technology devices.  
Dr. Suzanne Mitchell, Executive Director of the Arkansas STEM Coalition said, "this is a strategy to provide additional technology to facilitate student learning. The monitors will be used by  students to enhance science and mathematics content learning, to engage student teams in  support of computer science and robotics competitions, and to increase productivity of  technology devices." 
eSCO Processing and Recycling Company, a partner in the project, will coordinate the pick-up,  storage, and testing of the units. Joe Tucker, Vice President at eSCO, said, "We're happy to play a part in this partnership. Getting refurbished electronics into the hands of Arkansas educators  and students is a top priority for our company." 
Joe Knight, Environmental Management Coordinator at Arkansas Children's Hospital, said, "We needed to update the televisions in patient rooms and to recycle these working units. Children  need access to good technology, and these gently used monitors will be beneficial for many  schools." 
Dr. Mitchell said, "the Arkansas STEM Coalition began in 2010 as a 501c(3) nonprofit and is a  statewide partnership of business, education, government and community leaders who support  policies, strategies, and programs for excellence in STEM education. The STEM Coalition is a  catalyst providing inspiration and opportunity for students, kindergarten through college, to  ensure a well-trained, STEM-skilled Arkansas workforce." Contact the Arkansas STEM Coalition at 501-425-9995 or www.arkansasSTEMcoalition.com.
https://arkansasstemcoalition.com/wp-content/uploads/2017/09/arstem_bluelogo_vector_tm2-e1416171465262.png
0
0
STEMAdmin
https://arkansasstemcoalition.com/wp-content/uploads/2017/09/arstem_bluelogo_vector_tm2-e1416171465262.png
STEMAdmin
2022-01-22 16:16:51
2022-01-22 16:16:51
The Arkansas STEM Coalition Thanks Arkansas Children's Hospital & eSCO Processing and Recycling