Beebe Elementary School Receives 110 Chromebooks from eSCO
Rogers, AR based eSCO uses proceeds from recycled electronics to donate refurbished computers
Students at Beebe Elementary School benefitted from a new twist on recycling on Monday, August 12th.  eSCO, a Rogers, AR based electronic waste processing and recycling company, presented 110 refurbished Chromebook laptops to Beebe Elementary School.
"We are extremely busy on the day before school starts," said Principal Rob Rollins, "but we look forward to utilizing these Chromebooks and are excited about their impact."
Accepting the computers with Principal Rollins were Beebe Schools IT staff Ryan Gentry and Preston Perry, as well as Support Services Administrative Assistant, Emily Mills.  It took a forklift to unload all the computers, so Jean Stark from the Facilities team was ready to help.
Dr. Suzanne Mitchell, Director of the Arkansas Stem Coalition, and John Miller, STEM Coalition Board Member (Dassault Falcon Jet—retired) coordinated the donation by identifying the need at Beebe Elementary.  Todd Stange and Joe Tucker delivered the units from eSCO's facility in Little Rock.
eSCO's STEM Initiative leverages revenue generated by the collection of obsolete electronics to help achieve computer literacy among Arkansas students.  Businesses can earmark their obsolete electronics—computers, servers, monitors, cables, etc.—and eSCO will process them in a secure, transparent, and environmentally responsible way.  In turn, 50% of the net commodity value is put toward providing devices refurbished and tested at the company's facility in Rogers.  This model converts a problematic waste stream into current devices that will meet the IT specifications of any classroom or computer lab.
"We're so glad the program is such a success so far," said Tucker.  "Beebe Elementary plans to use these Chromebooks to serve the needs of very young students, and that's exiting to us because it helps close the gap on achieving a one-to-one computer to student ratio.  Lots of Arkansas students still don't have regular access to technology, and that's simply not acceptable anymore.  We are excited to expand the STEM Initiative, and we gladly welcome new sponsors."
Dr. Suzanne Mitchell, Executive Director of the Arkansas STEM Coalition, said that with the donation, eSCO's STEM Initiative will have generated over two hundred computers for Arkansas students.
"The eSCO program allowed us to add over 40 laptops to our mobile sets.  Those devices are used in schools, after school, on Saturdays, and during the Summer to give students the opportunity to learn coding, to build computer science competency, and to introduce them to STEM careers.  Schools and community organizations can use our resources during the school day or to fill the gap in time that kids have outside of regular instructional hours.  Our STEM Centers and these laptops are a great resource for teachers and anyone who needs technology in their program," said Mitchell.
Tucker said that achieving a one-to-one computer to student ratio is a very expensive proposition, and that eSCO is ready to help achieve this goal.  "We offer warrantied devices with the same specs as new machines, but at 1/3 the cost.  It's exciting to partner with other corporations to reduce this cost to as close to zero as possible," he said after the presentation.  "We all benefit from an Arkansas workforce that is prepared for tomorrow's technology, so this is a win-win relationship between business and education."  Tucker added that the partnership was inspired in part by Governor Asa Hutchinson's dual initiatives for STEM programs in schools and public/private partnerships to enhance the quality of life for all Arkansans.  "Business and industry helping to provide computers to kids fits the Governor's goals very well. Our company is proud to play our part."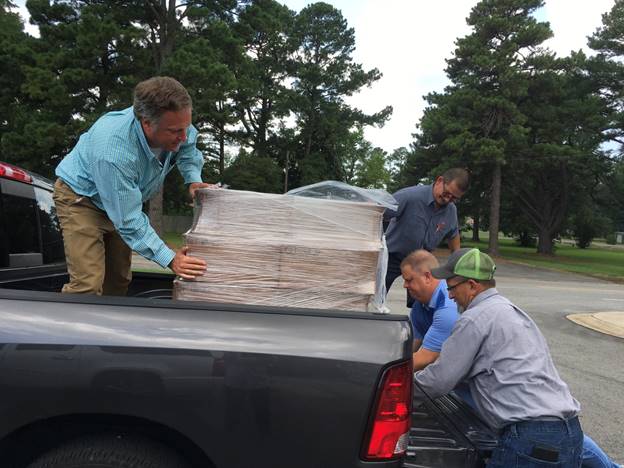 (Pictured left to right: Joe Tucker, Jean Stark, Todd Stange, Rob Rollins)
(Pictured, left to right: John Miller, Rob Rollins, Joe Tucker, Dr. Suzanne Mitchell)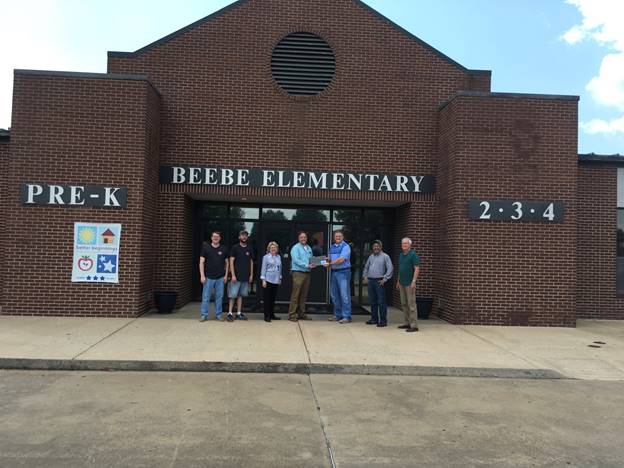 (Pictured, left to right: Ryan Gentry, Preston Perry, Dr. Suzanne Mitchell, Joe Tucker, Rob Rollins, Todd Stange, John Miller)
For more information, visit:
www.escoprocessingandrecycling.com
www.beebebadgers.org/o/elementary
https://arkansasstemcoalition.com/wp-content/uploads/2017/09/arstem_bluelogo_vector_tm2-e1416171465262.png
0
0
STEMAdmin
https://arkansasstemcoalition.com/wp-content/uploads/2017/09/arstem_bluelogo_vector_tm2-e1416171465262.png
STEMAdmin
2019-08-26 15:42:12
2019-08-26 15:42:12
Beebe Elementary School Receives 110 Chromebooks from eSCO