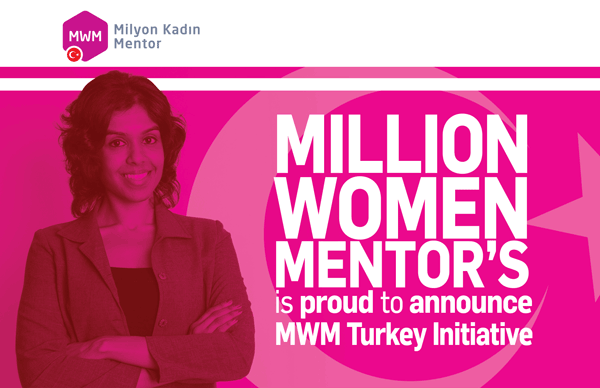 Please join us on Monday, March 8th at 9 am EST as we launch the newest Million Women Mentors global chapter in Turkey!
Million Women Mentors/ 1 Milyon Kadina Mentör is launching as a partnership between Million Women Mentors, the U.S. Chamber of Commerce's U.S.-Turkey Business Council, the Women in Business Initiative Co-Chairs Umran Beba, Partner at August Leadership & Co-Founder of BEBA Foundation and Canan Özsoy, CEO, GE Turkey, TurkishWIN and TOBB.
Furthermore, Million Women Mentors/1 Milyon Kadina Mentör is proud to recognize its Founding Circle members: the Beba Foundation, PepsiCo Turkey, Limak Holding and Logo Yazılım, whose generous support and leadership has made the launch of Million Women Mentors/1 Milyon Kadina Mentör possible.
With our collective efforts focused on advancing more girls and women on STEM pathways across the globe, the addition of the Turkey chapter will create new opportunities to further our work. The Million Women Mentors program, dubbed 1 Milyon Kadina Mentör in Turkish, will utilize TurkishWin's digital platform, BinYaprak, to connect young women with private sector leaders to foster mentorship opportunities across the region. The Turkey chapter plans to engage women in prominent STEM leadership roles across U.S. companies operating in Turkey as mentors to encourage the next generation of women leaders to explore STEM fields.