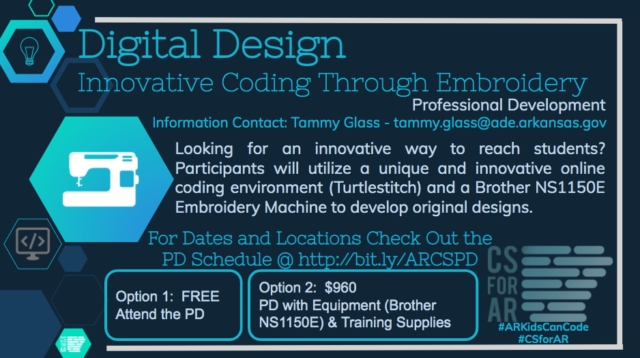 There are a few spots left!  Register at this Link
We take your digital design from concept to product and look at ways to use that file in various product formats like silhouette machines, 3-D printing, etc.  We will be using Turtle Stitch which is a block-based coding platform with simple coding resources to break you and your students into coding with embroidery!
Please contact us sooner rather than later if you need a machine. If your PO is not provided in a timely manner, it will delay your machine's arrival.  However, you may still attend the training.
If you already have a machine and need to know if it is compatible, we will be happy to help you answer that question.
Any questions can be answered by tammy.glass@ade.arkansas.gov.
About the machine:
The machine we will be training with is the Brother Innov-ís NS1150E Embroidery Machine.  Retail value of $1679.  School pricing $960.00 (includes machine + tax, supplies and coding/machine training.)
Upon registering, you will need to provide a real PO number if you are wishing to purchase a machine with our aid.  After registration, please email a complete purchase order on school letterhead to Tammy Glass at tammy.glass@ade.arkansas.gov. Your school will be invoiced from Jonesboro Sewing & Vacuum in Jonesboro Arkansas. The invoice will need to be paid within 30 days of the PD and will be paid directly to Jonesboro Sewing & Vacuum.