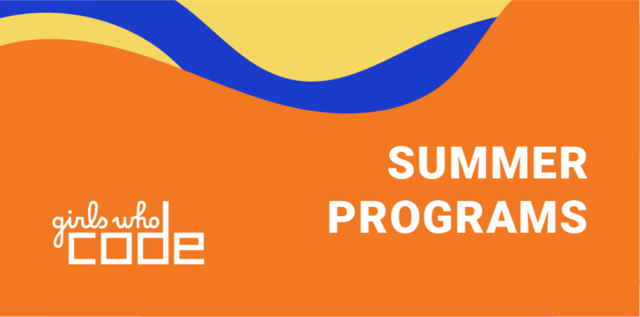 Girls Who Code offers two FREE programs in the summer: the Summer Immersion Program and the Self-Paced Program. Applicants can apply for BOTH programs, if eligible, using this application. However, students can only participate in one Summer Program.
PLEASE NOTE: Due to overwhelming early interest, our Self-Paced Program seats are reaching capacity. Students can still apply for this program using this application to be added directly to our Waitlist. Check out our FAQs to learn more about our waitlist process. Our Summer Immersion Program (SIP) is still actively accepting new applications and we will be sending out additional offers in early April. Learn more about this amazing program below – and be sure to complete the application ASAP!
The Summer Immersion Program (SIP) is a live, virtual, 2-week introductory computer science course for current eligible 9th, 10th, and 11th grade US students and international students ages 14-18. SIP participants learn web development with HTML, CSS, and JavaScript while getting an inside look into the tech industry through incredible company partners. In addition to a completely free program, we offer grants up to $500 and tech support for qualifying students.
The Self-Paced Program is a 6-week flexible computer science course for current eligible 9th, 10th, 11th, and 12th grade US students (including SIP alumni and graduating seniors) and international students ages 14-18 who prefer not to adhere to a set schedule. Self-Paced Program participants can choose to earn beginner-level badges in HTML, CSS, and JavaScript for web development or an intermediate-level badge in Python for cybersecurity. Students will also have the opportunity to build community through weekly live advisory sessions and Girls Who Code activities.
Questions? Watch our Application Walkthrough Video , review our FAQs, or join us for a Webinar (US Students , International Students). Send us an email at summer@girlswhocode.com.
Let's Get Started! Please click Register at the top right of this page to begin. If you already have an account on this platform from a previous application cycle, please click Log In.