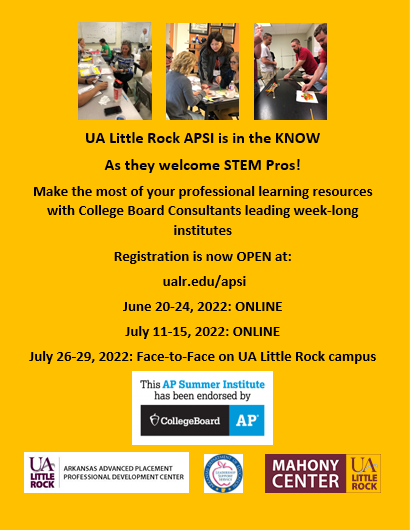 University of Arkansas at Little Rock Advanced Placement Summer Institute (APSI) offers
ONLINE and Face-to-Face STEM classes for AP and Pre-AP public school teachers at no cost
to teacher, school, or district through a grant from the Arkansas Department of Education.
 June 20-24, 2022, APSI offers ONLINE AP classes in Calculus AB, English, and Social
Studies.
 July 11-15, 2022, APSI offers ONLINE AP classes in Biology, Chemistry, Computer
Science A, and Statistics.
 July 26-29, 2022, APSI will offer FACE-to-FACE AP classes on the UA Little Rock
campus in Biology, Chemistry, Physics, Environmental Science, Computer Science
Principles, Psychology, Art and Design, and Spanish.
All classes are 30 hours of ADE approved and College Board endorsed professional
development. A certificate of the training is given at the completion of the course. More
information and registration can be completed at https://ualr.edu/apsi/  .