Wednesday, April 6th
1 PM – 2 PM Central Time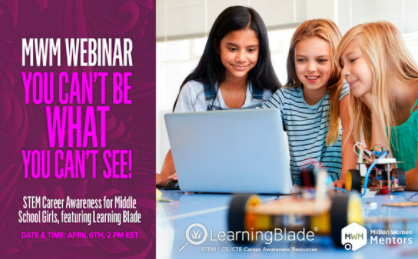 Join Learning Blade on Wednesday, April 6 from 1:00-1:00 pm Central Time to hear from creator and President Sheila Boyington, who is also the MWM National States Chair, as well as actual Learning Blade users and state education leaders.
"You Can't Be What You Can't See!" Career exposure early in the pipeline is key to giving students an opportunity to learn about all the possible career paths they can take. This is especially important when it comes to encouraging more girls and women to pursue STEM/CS/CTE-related careers. Hear how the Learning Blade system helps support educators building the future STEM/CS/CTE workforce.
We hope to see you there!