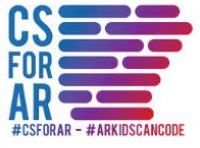 The Arkansas Department of Education (ADE) Office of Computer Science is pleased to announce that the Arkansas Statewide Computer Science Specialists will be providing the High School Computer Science Certification and Preparation Training over four Saturdays this spring. This 30-hour training will take place from 8:00 a.m. – 4:30 p.m. on
– January 22nd
– January 29th
– February 5th
– February 12th.
Participants who fully complete this training, along with all other requirements for each, will be eligible to apply for a 5016 Computer Science Approval Code, 5013 Classified Staff Computer Science Technical Permit, or a 5014 Computer Science Technical Permit.
Information on these three computer science licensure codes can be found at:
The purpose of this training is to prepare Arkansas educators planning to teach high school computer science and needing assistance passing the Computer Science (CS) Praxis Exam 5652. Participants will review Arkansas 9-12 Computer Science course codes, CS Standards, CS Fact Sheet, Curriculum Resources, and Prep Material to be used for passing the Computer Science Praxis. Participants may need to spend additional time outside of the training prior to taking the Praxis Exam.
This training will be completely online using the Zoom platform. Participants will be encouraged, but not required, to keep their cameras on during the entire training; regardless, Zoom logs will be checked along with periodic attendance checks performed to ensure participant participation. Participants who are found to not be engaged during the full 30-hour training will not be issued a professional development certificate or eligible for a 5016 Computer Science approval code (or 5013/5014 technical permit). Participant interaction is expected and an integral part of the training.
To sign up for this training please visit https://csforar.info/PD and look for a session link under the (Online) High School Computer Science Certification and Preparation(30 hours) heading. If your school is not part of an educational service cooperative, please sign up using the ESCweb link for "Arch Ford ESC Area Educators."
Please contact CSforAR@ade.arkansas.gov if you have questions or need assistance.