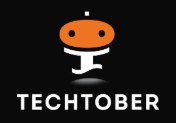 Techtober is a fun way to take part in a season of technology and entrepreneurship events in Arkansas, honor the long history of technology and entrepreneurship in the state, and build our future.
Celebrating all the 100+ events of Techtober in Arkansas, saluting the progress, remembering the rich tech heritage of the state.
The list of Techtober 2019 events is growing! Take a look at the events list from the menu above or look at them in calendar form. If you have an event to add use the "Submit Event" button to register your event. There is always room for more Techtober!
Contact Us | techtober@gmail.com