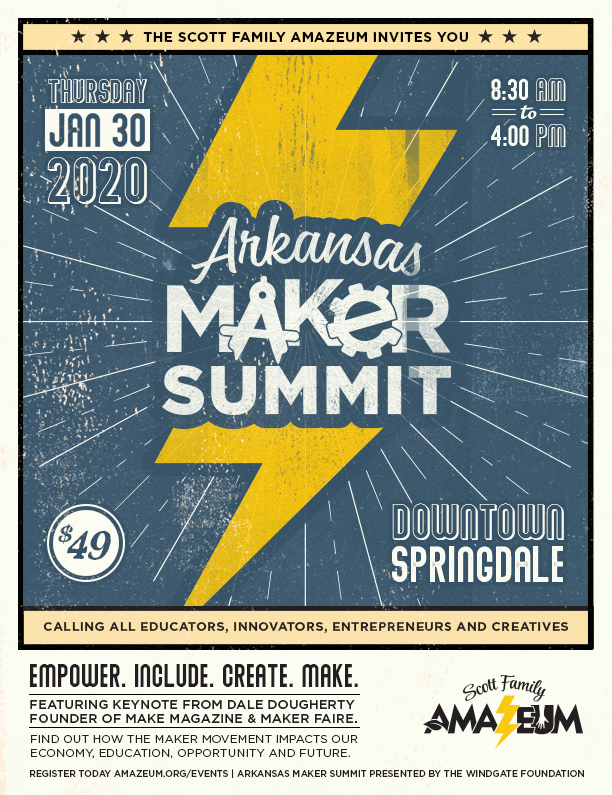 Name: Arkansas Maker Summit
Location: Outreach
Time: 01/30/2020 8:30 AM
Duration: 7 hours, 30 minutes
Seats Available: 178
The Scott Family Amazeum is excited to host the third statewide Maker Summit, presented by the Windgate Foundation, on Thursday, January 30, 2020 in downtown Springdale, Arkansas.
The Arkansas Maker Summit will explore the impact and value of the robust maker movement emerging around the Natural State. By convening national, regional, and local maker community leaders, the Arkansas Maker Summit will encourage increased opportunities for diverse populations, economic drivers, and future-ready learners to engage together in this budding maker ecosystem.
Featuring innovative technologists, educators, and thought leaders with a maker-mindset from across multiple industries and sectors, topics at the Arkansas Maker Summit will explore the movement in a variety of contexts, including Makerspaces in K-12 schools, extracurricular environments, business and manufacturing, and entrepreneurial settings. The Summit will generate connections between sectors with the goal of weaving together the communities passionate about maker-based opportunities to build a foundation for a more coordinated and systemic effort in Arkansas.
The Maker Summit aims to empower people of all walks of life—from educators and entrepreneurs to creatives and executives and everyone in between—to further explore the impact of the maker mindset. All who are interested in the maker movement such as teachers, out of school time educators, public libraries, makers, creatives, entrepreneurs, business leaders, and workforce developers are invited to attend the Arkansas Maker Summit and help build this burgeoning community together.
Arkansas Department of Education approved professional development credit is available to Arkansas teachers.
Keynote speakers and session presenters will be announced soon.
January 30, 2020
8:30 am – 4:00 pm
$49 registration fee (includes light breakfast and lunch)
Advanced registration and payment required.
Location: The Apollo on Emma at 308 W Emma Ave, Springdale AR. Breakout sessions will be held at multiple locations within walking distance of the Apollo. Transportation will be provided.
Interested in sponsoring this event? Click here for sponsorship opportunities.
Questions about AR Maker Summit? Please contact Elyse Partee at epartee@amazeum.org.
Paying with a PO? Please contact Megan Hagen at reservations@amazeum.org to register.